Bending Restrictor Pipe Joint - BRPJ and Bending Restrictor Sleeve - BRS

Cold bending of submarine pipelines is a remedy for seabed obstructions, which otherwise require preparatory or remedial work.
The method comprises cold bending in any plane to the allowable strain criteria. The bending takes place at the seabed during the installation
operations when additional length to follow an undulating seabed is created.
Benefits are realized when crossing escarpments, achieving a shorter direct route, contingency for seismic activities, mudslides, environmentally sensitive areas and when short radius turns are required. Units are supplied ready to be added to the pipeline in a manner identical to common pipe sections.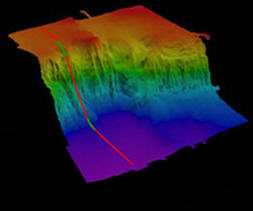 Ocean
P.O. Box 42484
Houston, TX 77242
Tel 281 531 5220
sales@oceanfloat.com